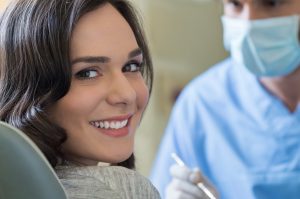 If you've never even heard the word periodontist, you're not alone. Unless you work in the dental field, one dentist may seem just like any other, but periodontists are dentists who specialize in treatments that impact the supportive tissues that surround your teeth. If you're in need of gum disease treatments, tooth replacements, or tissue grafts, you may need to take a trip to see your local periodontist. In this post, we'll discuss what a periodontist does and how they can help you achieve and maintain a healthy smile by offering a variety of periodontal services.

What is a Periodontist?
A periodontist is a dentist who has completed one or more years of advanced training with a focus on the specialty of periodontics. Many people think that periodontics is just a fancy way of saying gum disease treatment. However, periodontists actually do more than just treat gum disease. The specialty field of periodontics is best defined by breaking down the word periodontic itself. Periodontic is a compound of two words – perio meaning around and odont meaning tooth. Periodontists have advanced training in the supportive structures that surround the tooth and the diseases and oral health issues that affect these tissues.
What Treatments do Periodontists Offer?
Periodontists offer a wide range of treatments, including:
Non-surgical periodontal therapy – we offer scaling and root planing, antibiotic treatments, and other nonsurgical periodontal therapies to improve oral health following gum disease.
Periodontal surgeries – to remove damaged or diseased gum tissues or graft additional tissues
Surgical tooth removal – for wisdom teeth and other damaged or decayed teeth that cannot be pulled without cutting into the supportive tissues
Dental implant placement – surgical placement of one or more dental implant posts as part of an implant supported tooth replacement plan
Meet the Rocky Mountain Periodontal Specialists
At Rocky Mountain Periodontal Specialists, our skilled periodontists and team members offer a wide range of treatments in a comfortable atmosphere where you'll always feel welcome and right at home. Dr. Karl Lackler started his periodontal career in the Air Force, and he has continued to share his training and expertise with Colorado Springs periodontal patients. Dr. Geoff Haradon brings decades of dental care and periodontal experience to his patients, offering a variety of treatments to renew oral health and keep patients smiling. From mild gum disease to the most advanced dental implant placement procedures, we are here to help you with all of your periodontal therapy needs. Please don't hesitate to call our Colorado Springs periodontal practice to schedule a consultation appointment to learn more. We look forward to offering effective therapies for all of your periodontal needs.