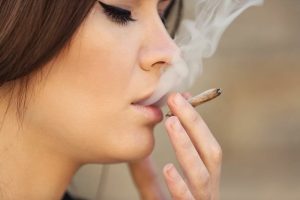 You're probably aware that there's growing support for the legalization of both recreational and medicinal marijuana use across the US and other countries. But regardless of the legislation and ongoing debate, people have been using marijuana for many years—and given that it's usually either smoked or eaten, you might be wondering if the substance can influence your oral health. Here's what your dentist wants you to know about the link between marijuana use and oral health, along with some tips for protecting your smile.
The Link Between Marijuana Use and Oral Health
Research shows an observable relationship between marijuana use and poor oral health. One factor linked to using marijuana is dental caries—studies show that if you smoke it regularly, you're at a much higher risk of developing cavities. These problems can begin manifesting as early as adolescence.
Smoking marijuana regularly also increases your chances of developing periodontal disease and oral lesions, as well as types of mouth and neck cancers. The THC and other irritants in marijuana smoke can cause damage to your gums, which can ultimately lead to severe infection. Marijuana also suppresses your body's immune system, further weakening your resistance to problems.
It's also worth noting that marijuana use can cause oral health issues in ways you might not expect. The condition of "cottonmouth," where your mouth becomes extremely dry to the effects of the THC in your nervous system, can prove detrimental to your teeth and gums. Cottonmouth can cause tooth decay, gum infection and inflammation, and noticeably bad breath, among other issues. The heat from the smoke can also damage the healthy tissue inside your mouth, making it more likely that the toxic chemicals in the smoke will be absorbed by the membranes inside your mouth.
Lastly, the dietary cravings instilled by marijuana use can also complicate things! If you're regularly eating unhealthy items in addition to smoking, you're exposing your mouth to potentially untold amounts of sugars and carbs.
Tips for Preventing Gum Disease
Whether you're enjoying it recreationally or using it for medicinal purposes, marijuana will increase your risk of developing gum disease. Fortunately, there are several strategies you can implement to help treat and/or prevent dental problems. These include things like:
Practicing excellent oral hygiene by brushing twice a day, flossing, and using an antibacterial mouth rinse.
Eating a healthy diet and avoiding overly sugary or acidic consumables.
Drinking plenty of water to keep your mouth hydrated and your saliva flowing. Steer clear of sugary and carbonated beverages when possible.
Regularly visiting your dentist for routine preventive care.
It's been known for a long time that frequent tobacco use can increase the risk of periodontal disease; however, marijuana use can also have similar and possible negative effects. That said, knowing the potential risks and taking a proactive approach will ensure that your risk of gum disease is notably lowered.
About the Practice
Rocky Mountain Periodontal Specialists, L.L.C. proudly serves patients and families in the Colorado Springs area. The practice offers a wide range of preventive, cosmetic, and restorative treatment options, including periodontal therapy to address gum disease. If you have any questions about the article or would like to schedule a visit, you can contact the practice online or by phone for assistance: (719) 574-4867.