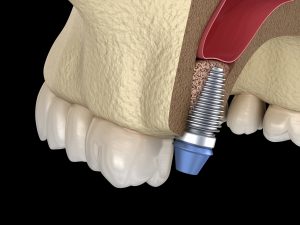 If you recently had your consultation for dental implants, you probably didn't expect your periodontist to discover you've lost bone in your jaw. You can lose up to 25% of your jaw's density within the first year of missing a tooth. Up to 50% of patients interested in dental implants require bone grafting. While it adds another step to your treatment plan, it's crucial to the long-term success of your new smile. Here's what you can expect when recovering from your dental bone graft procedure.
Bone Grafting and Dental Implants
A dental implant is the only treatment to replace both the root and crown of a tooth. A titanium post is inserted into your jawbone to serve as a root. Your bone must integrate with the post through a process called osseointegration. Patients who have insufficient bone density can't get dental implants because they won't have adequate support.
Bone grafting is a simple solution to enhance your jaw's thickness to ensure your new teeth have everything they need to thrive. While under anesthesia, your periodontist will remove a small piece of bone from another area of your body, or they can use donor material. The graft is placed on the compromised area, and the tissue is stitched closed to begin the healing process.
Bone Grafting Recovery
While you won't feel any pain during your grafting surgery, your mouth will be a little sore when the anesthetic wears off. You can manage it by taking any prescribed or OTC pain relievers. Your periodontist may also prescribe antibiotics. It's important to take them correctly to prevent infection.
You'll want to eat softer foods for a few days to avoid irritating the tender tissue. Be sure to brush and floss your teeth to keep the surgical sites clean. If you have any discomfort, you can apply a cold compress to the outside of your face to reduce pain, swelling, and bruising.
It's best to skip any strenuous exercise for at least 6 months. If you smoke or drink alcohol, you'll want to kick the habit. Alcohol and tobacco can affect the healing process, increasing your risk of complications, like an infection.
Within a couple of weeks, your surgical sites will be healed, but your bone requires a little more time to recover. You may need follow-up visits several times to monitor the healing process, which can take about 3 months. After your bone has integrated with the graft, you can begin the next phase in your journey to a complete smile.
You'll be scheduled for your placement surgery to take one more step closer to enjoying the next best thing to your real teeth.
About Dr. Karl Lackler
Dr. Lackler earned his dental degree at the University of Illinois before continuing his training for several years to focus on periodontics. As a Diplomate of the American Board of Periodontology, he has the experience and qualifications you can trust for complex issues, like bone loss. If you need bone grafting, contact our office today to schedule your consultation.