September 8, 2019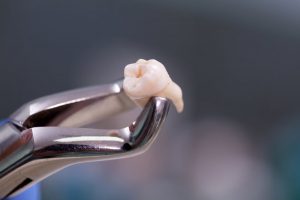 There are many reasons why a tooth may need to be extracted, even if it's often considered a last resort by dentists. However, when the treatment is needed, either for protecting existing teeth or removing harmful ones, it's important to keep the healing process in mind. When you visit periodontists for a tooth extraction, they'll go over all the information you need to ensure your recovery is a speedy one, highlighting the most important do's and don'ts of your aftercare. If you're in need of a tooth extraction, keep reading!
Managing Discomfort Following Tooth Removal
Generally, most discomfort that appears as a result of tooth removal should go away after about two or three days. If this pain does not go away, that's when you need to get back in touch with the doctor who performed your tooth extraction.
As you heal, the most effective way you can reduce discomfort is by taking all medications recommended by the doctor, making sure to follow the instructions on the label. You may also be told to take over-the-counter medications, especially if you want to avoid certain medications that you could develop a dependency on. If you notice any swelling following your treatment, use a cold compress to reduce it. This can be done for up to an hour at a time, just make sure to remove the compress every ten minutes to prevent damaging your facial tissue.
What Your Diet Should Look Like
As your tooth heals, make sure to keep to a soft diet. This means eating foods that do not require large amounts of chewing or processing to ingest. A few of the most common foods include:
Applesauce
Pudding
Soup
Yogurt
Ice cream
Smoothies (eating with a spoon only)
It is recommended that you keep to a soft diet for at least one week. Once you do, you can slowly start to reincorporate normal foods into your daily routine.
Essential Tips to Keep in Mind
Immediately following your treatment, make sure to:
Leave the gauze pad in place for about three to four hours following the procedure
Limit all physical activities for the next 24 hours. Get plenty of rest at home.
Do not rinse your mouth out, spit, or use straws for the next 24 hours. These acts could potentially dislodge the blood clot and cause severe discomfort.
Do not smoke or use tobacco.
Keep your head propped up when sleeping to promote healing.
Brush and floss as normal, making sure to avoid the extraction site,
If you start to notice pain in your tooth three days after your initial extraction or bleeding is severe four hours after the treatment, call the office back as soon as possible for further treatment. If you notice signs or symptoms of an infection, such as fever or chills, call the office. The same applies if you have nausea or begin vomiting.
About Rocky Mountain Periodontal Specialists
The periodontists at Rocky Mountain Periodontal Specialists always make sure to provide detailed aftercare instructions following your tooth extraction. In the rare event that you experience an infected tooth or other problems appear, they'll be ready to take your call. To schedule your next tooth removal, you can contact them through their website.
Comments Off

on What Should I Expect After My Tooth Extraction?
No Comments
No comments yet.
RSS feed for comments on this post.
Sorry, the comment form is closed at this time.