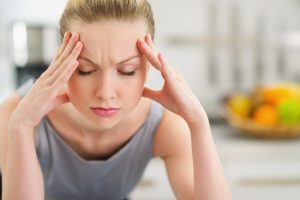 We live in uncertain times as we deal with many changes to combat the COVID-19 pandemic. While we practice social distancing and spend more time at home, it's easy to worry about what lies ahead. Your elevated stress levels can harm your health over time, but that's not the only concern. Stress is also linked to negatively affecting your oral health, like causing bleeding gums. You don't need to let COVID-19 leave a lasting mark on your smile. Here are 3 issues stress can cause and easy tips to prevent them.

Stress and Your Oral Health
It isn't a secret that stress is bad for your general well-being, but it can also damage your teeth and gums. In fact, long-term stress is directly linked to declining oral health. While there are many issues that can occur, here are the most common stress-related dental problems:
Bruxism
Stress can lead to a subconscious habit of grinding and clenching your teeth. Not only can it lead to jaw pain, but it will cause unnecessary strain on your smile. This can cause enamel erosion, which increases your risk of broken or fractured teeth. Over time, your teeth may even loosen and fall out. Your gums can also suffer the consequences of bruxism. It can cause severe gum recession and an increased likeliness of periodontal disease.
Gum Infection
Long-term stress is proven to weaken the immune system. This lowers your body's ability to fight infections. As a result, you have an increased risk of several dental issues, like bleeding and inflamed gums. The changes to your gum health can be the result of an infection called periodontal disease. While it's preventable, it's the leading cause of tooth loss. Thankfully, your periodontist offers the personalized solutions you need to stop the infection and restore your gum health.
Burning Mouth Syndrome
Burning mouth syndrome is a complex condition that causes many uncomfortable symptoms, like a scalding or tingling sensation in the mouth. You may also experience dry mouth or altered tastes. The syndrome is often associated with smoking and alcohol. As you deal with the stress of coronavirus, you might use tobacco frequently or consume more alcohol than usual, raising your risk of the syndrome. If the painful condition isn't treated, it can damage your teeth and gums.
Protect Your Smile from Stress
While you're stuck at home, you can be proactive about your stress levels to keep your smile healthy. Here are a few simple ways to manage your stress:
Exercises regularly.
Reduce your caffeine and alcohol consumption.
Stop smoking.
Meditate or practice yoga.
Decrease your sugar intake.
Practice deep breathing techniques.
If you develop any concerning symptoms, like red or inflamed gums, don't wait to contact your periodontist. They will restore a healthy smile, so you can focus on other matters.
About Dr. Karl Lackler
Dr. Karl Lackler is a trusted periodontist in the community who is an active member of various organizations, including the American Academy of Periodontology. He combines his training and qualifications with the latest advancements in dentistry to nurture healthy smiles. If you need periodontal therapy, don't wait. Contact our office today for an appointment.