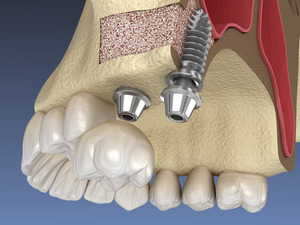 Before you can have dental implants placed, your periodontist might tell you that certain preliminary procedures need to be performed first. And if you're getting a dental implant near the back of your upper jaw, one of those procedures might be a sinus lift. What exactly is a sinus lift, and why does it need to be done before you can get new teeth? Here's what you need to know about this treatment.
What is a Sinus Lift?
A sinus lift is a surgical procedure that involves grafting bone to the area of the upper jaw where the molar and premolar teeth are usually located. This procedure is different from a regular bone graft because it involves lifting the sinus cavity to make room for new bone tissue.
Why Might You Need a Sinus Lift Before Dental Implants?
For dental implants to succeed, there needs to be plenty of bone for them to join with. But when teeth are missing, the jawbone starts to deteriorate due to a lack of stimulation. Eventually, it can get to the point where there is no longer enough bone tissue in the area to support implant posts.
Furthermore, when it comes to replacing the upper back teeth, the sinus cavity can present additional complications. Because of its location, there might not be enough room for implant posts to be inserted into the jaw.
A sinus lift can address both of these issues simultaneously; not only does it help restore any bone that was lost, but it also allows your periodontist to move the sinus cavity so that it won't get in the way of the implant procedure.
How Does a Sinus Lift Work?
After numbing your mouth, your periodontist will make an incision in your gums and create a small "window" in your jawbone to access the sinus cavity. The membrane of the cavity is gently lifted, creating a space that is then filled in with grafting material. Said material is typically bone tissue taken from elsewhere in your body; however, sometimes synthetic material or tissue provided by a donor is used instead.
After the procedure, you'll need to wait for your jaw to heal completely before dental implant surgery can be performed. This can take anywhere between 4 to 12 months depending on several factors, such as the amount of bone used.
There's no need to worry if your periodontist recommends a sinus lift. It's relatively common to have this treatment performed as part of the dental implant process, and it can often mean all the difference for the success of your new smile. Remember, you can always talk to your periodontist if you have questions about the sinus lift procedure.
About the Author
At Rocky Mountain Periodontal Specialists, Drs. Geoff Haradon, Karl Lackler, and Tyler Haradon all combine their extensive periodontal knowledge to bring patients in Colorado Springs excellent care. When performing sinus lifts and placing dental implants, they use the latest techniques and technology to ensure that the results are worth smiling about. To schedule a consultation at Rocky Mountain Periodontal Specialists, visit our website or call (719) 574-4867.