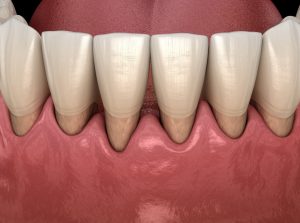 You know your enamel can't grow back, which is why you're proactive about combating tooth decay. However, your teeth are the only component of a healthy smile. Your gums are just as important. Unfortunately, 50% of Americans have gum disease. The preventable infection destroys the gum tissue and the supporting structures of your teeth, exposing your tooth roots. Over time, your teeth can loosen and fall out because they don't have the support and protection of your gum tissue. Thankfully, your gums aren't like your enamel. You can save your smile from irreversible damage if you catch gum recession early. 
Common Causes of Gum Loss
Periodontal (gum) disease is a common cause of exposed roots, but the infection isn't the only culprit. Aggressive brushing habits can wear away your gum line. Your bite and alignment may also lead to gum loss, while genetics, oral hygiene habits, and dental health can play a role, too.
No matter the cause, your gum tissue may not be gone for good. Your periodontist can regenerate healthy tissue to preserve your natural smile, but only during the earliest stages of gum disease. Don't wait to schedule an appointment if you have signs of gum recession, such as:
Bleeding after brushing or flossing
Chronic bad breath
Swollen, red, or tender gums
Tooth sensitivity
Loose teeth
Shrunken gums
Exposed tooth roots
Reversing Gum Recession
There's not a single treatment for gum recession because every situation differs. Your periodontist will examine your mouth to find the source of your gum loss to create a personalized strategy to support new growth, such as:
Scaling and Root Planing: Also known as a "deep cleaning," the two procedures remove tartar buildup from above and below the gum line to close the periodontal pockets. This allows your gums to reattach to your teeth to restore a tight seal.
Laser Gum Therapy: A dental laser can be used as an alternative to scaling and root planing. The laser kills bacteria, removes damaged tissue, and stimulates new growth using a less invasive method than traditional dental instruments.
Gum Grafting: If too much damage has occurred, your periodontist may recommend a gum graft. Tissue from another area of your mouth or a donor is grafted to the gum line to cover the tooth roots.
Your smile doesn't have to become another victim of gum recession. Your periodontist can turn back the clock to restore a healthy, beautiful smile using the latest treatments in periodontal therapy. Don't wait until it's too late to save your smile. Contact your periodontist at the first sign of an infection or recession.
About Dr. Geoff HardadonDr. Hardadon earned his dental degree at the University of North Carolina before continuing his training in advanced services like periodontal disease and dental implants. Dr. Hardadon has focused his career on periodontics and is a member of the American Board of Periodontics and the American Academy of Periodontology. Contact our office to request a consultation with a trusted periodontist in Colorado Springs.