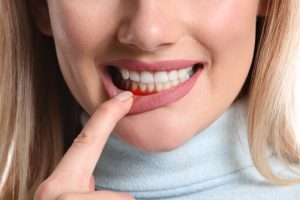 Did you know that 75% of all Americans have some form of gum disease? Plus, roughly 40% of adults in the U.S. are not aware of the dangers gum disease can cause to their overall health. While keeping your teeth in pristine condition is crucial, the health and care of your gums are equally as important. Read on for three reasons to prioritize your gum health and how periodontal therapy in Colorado Springs can help.
Gum Health Is Important for Heart Health
According to Harvard Medical School, poor oral care habits negatively impact the health of your heart. When the plaque-causing bacteria in your mouth enters your bloodstream, it can cause blood vessel inflammation and tiny blood clots. This puts patients with gum disease at risk of serious health concerns, like heart attacks and strokes. Therefore, it is important to prioritize prevention by consistently brushing and flossing your teeth.
Gum Disease Leads to Tooth Loss
Although tooth loss is often attributed to age and genetics, the actual culprit is gum disease. When the gums become infected, they can recede and leave pockets between the gum line and your teeth. These gaps often become home to disease-causing bacteria that negatively impact the supporting tissue and bone of the teeth, resulting in tooth loss. To prevent this from happening to you, be diligent about your bi-yearly visits, and don't hesitate to ask your dentist about how you can improve your oral hygiene routine.
Neglected Gums Can Lead to Periodontitis
Gum disease in its early stages is referred to as gingivitis. At this stage, it only affects the gums. However, if it is left untreated, it can progress to periodontitis. This occurs when the gum disease has spread to the bone below, causing inflammation and infection. At this point, you will need to undergo periodontal therapy to restore your healthy smile.
While the dangers of unhealthy gums should not be dismissed, it is important to note that it can be prevented. Therefore, make sure to prioritize the health of your teeth and your gums for a beautiful, strong smile that will last you a lifetime!
About the Practice
Led by Dr. Geoff B. Haradon and Dr. Karl Lackler, the team at Rocky Mountain Periodontal Specialists in Colorado Springs provide comprehensive, compassionate care at each of their appointments. In addition to a combined nearly four decades of training and experience between the team, they are also proud to have achieved the Top Dentists annual list! If you would like to speak with their team about periodontal therapy, please visit their website or give them a call at 719-574-4867.