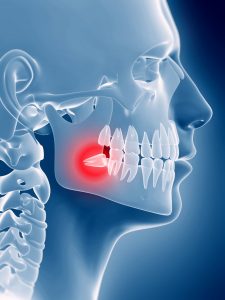 While scientists think that wisdom teeth used to be necessary for early humans to eat nuts, roots, and tough meats, nowadays these third molars don't serve any real purpose in our mouths. In fact, they often do more harm than good! That's why the vast majority of adults – about 85%, according to the American Association of Oral and Maxillofacial Surgeons – will need wisdom teeth removal at some point in their lives. If you or a loved one still has wisdom teeth, here are 5 signs they'll need to be extracted soon.
1. Persistent Pain
Because there often isn't enough room for wisdom teeth to erupt properly, they may come in crooked and disrupt the alignment of your other teeth as well as your mouth overall. As a result, you might experience jaw pain, tooth pain, and headaches; eating and drinking could also become very uncomfortable. Get in touch with your dentist if the pain is intense or never goes away.
2. Impaction
When a wisdom tooth becomes impacted, it stays trapped under the gums instead of appearing in the mouth. This often means they're growing at the wrong angle and could damage the roots of your other teeth or your jawbone. In addition to the pain, this usually causes swelling and tender gum tissue. Impacted wisdom teeth can also be identified with the help of a dental X-ray.
3. Tooth Decay and Gum Disease
Since the wisdom teeth are located in the very back of the mouth, keeping them clean can be a challenge. As a result, they have a particularly high chance of developing cavities, and the area around them could be vulnerable to gum disease. Your dentist will need to check the area to determine whether the issue warrants wisdom teeth removal.
4. Sinus Issues
There can be any number of underlying reasons for sinus pain and headaches, of course, but sometimes the condition is connected to the wisdom teeth in the upper jaw. If the teeth grow towards the sinuses, it can put pressure on them, leading to discomfort and other issues. Worse yet, an infection in the upper wisdom teeth could spread to the sinuses because they're so close to each other. If you're suffering from sinus problems and haven't been able to figure out why, give your dentist a call to see if you can rule out wisdom teeth as a source.
5. Dentist's Recommendation
Sometimes your wisdom teeth aren't currently causing you any pain or health problems, but your dentist might recommend extracting them anyway. By examining your mouth, your dental X-rays, and your medical history, a dentist can predict whether wisdom teeth will cause problems in the future. Removing them now could save you a lot of time and pain later.
While wisdom teeth don't always need to be removed, it's important to recognize the warning signs that they could be causing problems in your mouth. Having them extracted as soon as you realize something's wrong could make a huge difference for your oral health!
About the Practice
Here at Rocky Mountain Periodontal Specialists in Colorado Springs, our experienced periodontists are proud to use their combine 36 years of education, service, and experience to provide care for patients who want to restore their oral health. They offer surgical extractions to remove problematic wisdom teeth as well as simple extractions for other infected or badly damaged teeth. To schedule an appointment, visit our website or call (719) 574-4867.