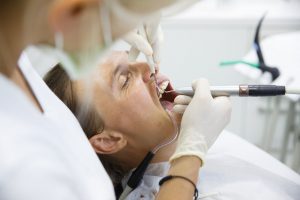 Untreated periodontal disease can lead to bone damage, tooth loss, and increased risk of serious health conditions such as stroke and diabetes. The earliest stage of periodontal disease can often be reversed by practicing good oral hygiene. However, advanced periodontitis usually requires more serious measures. Specifically, pocket reduction surgery is one of the best treatment options available to overcome serious gum infections. Are your gums chronically swollen and bleeding? Keep reading to learn more about the pocket reduction procedure and see whether it's right for you.
What Is Pocket Reduction?
Pocket reduction is a surgical procedure to remove harmful bacteria trapped in the space between gums and teeth. While scaling and root planing can help treat mild cases of gum disease, pocket reduction surgery is often necessary when the oral infection has reached an advanced stage. Depending on your unique situation, your periodontist may pair pocket reduction with other procedures, such as a bone graft or tissue regeneration.
What to Expect During Pocket Reduction Surgery
Here are the steps your periodontist will likely take during pocket reduction surgery:
First, they will administer a local anesthetic to make sure you are comfortable throughout the procedure.
Next, they will gently pull back the gum tissue to expose the plaque and tartar buildup.
They will then remove the bacteria from your tooth roots and remove any diseased gum tissue as well.
Any rough or irregular bone surfaces may be smoothed or reshaped to prevent bacteria from easily accumulating there again in the future.
Finally, your periodontist will suture your gums in a way that reduces the pocket depth. This will help the tissue reattach to the healthy bone and prevent bacteria from building back up under your gums in the future.
What to Expect After Pocket Reduction Surgery
You may experience some minor swelling and discomfort during the first couple of days following pocket reduction surgery. Applying a cold compress to the swollen area off and on every 15 minutes can help. In addition, your periodontist may provide a prescription for painkillers to manage any lingering discomfort.
You will also need to stick to a soft-food diet for around two weeks. Eating foods like mashed potatoes, soups, apple sauce, broths, oatmeal, pudding and more can help you get the vitamins and nutrients you need while also allowing your mouth to heal.
Are You a Good Candidate?
To determine if you could benefit from pocket reduction surgery, you should first schedule a consultation with a periodontist. During this appointment, he or she will measure the pockets between your gums and teeth using a special probe. A pocket depth greater than 5 or 6 millimeters is a sign that advanced periodontal disease has set in. If this is the case for you, the periodontist will likely recommend pocket reduction surgery.
Periodontal disease is a serious condition that can cause permanent damage to your mouth and smile. If you have any concerns at all about the health of your gums, ask a periodontist how pocket reduction can help.
About the Practice
With over 30 years of combined experience, Dr. Geoff Haradon and Dr. Karl Lackler lead the team at Rocky Mountain Periodontal Specialists in providing outstanding periodontal care. They perform a wide variety of treatments at their Colorado Springs practice, including pocket reductions, crown lengthening, gum grafting, and more. To learn more about how they can help you finally overcome gum disease, visit the Rocky Mountain Periodontal Specialists website or call 719-574-4867.