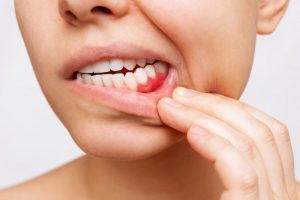 According to the Centers for Disease Control and Prevention, almost half (46%) of Americans over the age of 30 have some degree of gum disease. This shows that how you take care of your smile before you reach full adulthood truly impacts your oral health! While brushing twice a day and flossing daily are the best ways to ward off inflammation of the gums, there are some daily habits that put you at increased risk of poor gum health. Read on to learn about the link between gum disease and vaping CBD oil.
How Can Vaping CBD Oil Increase Your Risk of Gum Disease?
While vaping has been proven to have fewer risks to your oral health than smoking, it can still be harmful to your smile. It's not clear what the long-term effects vaping can have since it's relatively new to the market, but it can impact your mouth by causing:
Dry mouth: Vaping uses a substance called propylene glycol. This viscous, colorless chemical is nearly odorless and has a faintly sweet taste. It causes your mouth to become dry, placing you at a higher risk of tooth decay and gum disease.
Inflammation and irritation: A study by the NYU College of Dentistry found that different bacteria were found in the mouths of e-cig users versus non-users. These bacteria cause people who use e-cigs to be more prone to inflammation and infection of the mouth.
Excess bacteria: Vaping changes the microbiome in the mouth. A healthy balance of microbes is essential for a thriving smile. If it gets interrupted or unbalanced, it can lead to a higher risk of developing gum disease for those who use e-cigs.
How to Keep Your Smile Healthy
The good news is that there are ways to safely reap the benefits of CBD while also protecting your oral health. These include:
Consider other usage methods: As an alternative to vaping, you can take CBD in the form of gummies or other foods. This is generally healthier for both your lungs and your mouth.
Stay hydrated: By drinking plenty of water after using your e-cig, you can help prevent both dry mouth and bad breath.
Be consistent with your oral health routine: Good oral hygiene will lower your chances of developing oral health issues like gum disease. By brushing twice a day and flossing at least once daily, you will keep your help keep your teeth and gums in top condition.
Visit your dentist: By maintaining your biannual dental visits, your dentist can give you a thorough examination to catch any early signs of gum disease and treat any infection before it becomes worse.
Though vaping CBD oil may increase the risk of developing gum disease, there are things you can do to protect your mouth. By following these helpful tips, you will be sure to maintain a healthy and gorgeous grin!
About the Practice
Rocky Mountain Periodontal Specialists keep the smiles of Colorado Springs whole and healthy through the expertise of their team of periodontists. They offer complete and compassionate care as they help to restore your oral health. With the use of advanced dental technology and customized plans, they provide a full range of services, including surgical and non-surgical periodontal therapy. To schedule an appointment, contact them through their website or call (719) 574-4867.