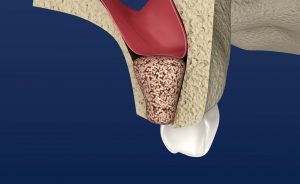 Are you ready to replace your missing teeth with the next best thing to your natural smile? You can join over 500,000 people who invest in dental implants annually. Your first step to a complete smile involves a thorough consultation with your dentist. Don't be surprised if your dentist recommends a bone graft before beginning the transformation process. Although it adds another step to your journey, the success of your new smile relies on the procedure.
What is Bone Grafting?
Bone grafting is a surgical procedure that adds extra tissue to strengthen your body's infrastructure. Bone from another area of your body or a donor is surgically placed on the location. Your jaw will integrate with the graft to restore the density of a weakened bone.
When referring to dental implants, a bone graft may be needed to ensure the jaw can support the posts for many years to come. Research shows you can lose as much as 25% of your jawbone's density within the first year of losing a tooth, so it's not uncommon to need bone grafting before replacing your missing teeth. Although the procedures often coincide, the extra treatment isn't always necessary. Your dentist will determine if you need it after reviewing a CT scan of your mouth.
Why Does Bone Density Matter?
A dental implant is unlike any other treatment because it recreates the entire tooth structure. It is the only method that recreates the root. A titanium implant post is surgically placed into the jaw to serve as a new root. For the procedure to be successful, your bone must integrate with the post through a process called osseointegration. Although it can take several months, after your jawbone has healed, your dental implants can stay in place forever with the proper aftercare. You'll enjoy a nearly perfect replica of your natural smile as a custom-made restoration is attached to the post using an abutment. With your jawbone supporting the post, you will regain up to 70% of your natural biting force.
Dental implants are the most reliable option to treat missing teeth with over a 95% success rate. Their success relies on a strong jawbone to provide the posts with sufficient support. If your jaw is weakened, your new smile is bound to fail.
Who Needs Bone Grafting?
Not everyone considering dental implants requires bone grafting. Instead, the procedure is often recommended under the following circumstances:
Development defects
History of advanced gum disease
Face injury or trauma
Empty space after the removal of a tooth
Your implant dentist can reinforce the foundation for your new smile using advanced dental techniques. You'll protect your investment by giving your replacement teeth the support they need to thrive for decades.
About Dr. Karl Lackler
Dr. Lackler earned his dental degree at the University of Illinois before continuing his education to achieve his Master of Science in Periodontics. With over 20 years of experience, he has the qualifications you can trust for complex oral health issues. If you need bone grafting, contact our office today to schedule your consultation.