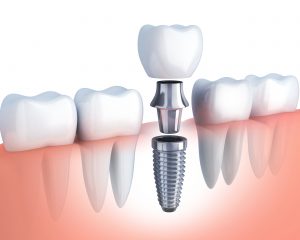 If you're missing teeth, you might feel self-conscious about your smile. But tooth loss can affect more than just your appearance. It can lead to deterioration of your jawbone, increased risk of irritation and infection, and more. That's why it's important to replace your missing teeth as soon as possible. One popular option is dental implants. However, they're not perfect. Read on to learn 3 disadvantages of dental implants in Colorado Springs.
What are Dental Implants?
Dental implants are metal posts, usually made of titanium, that are surgically inserted beneath the gumline. The jawbone grows around the implant so that it stays permanently attached. Your periodontist in Colorado Springs will then place a restoration, such as a porcelain crown, over the implant so that it looks and feels like a natural tooth.
It typically takes several months to recover from dental implant surgery. However, they are designed to last for decades, possibly your whole lifetime.
Although they seem like the perfect solution to missing teeth, let's look at a few drawbacks of dental implants:
Cost
The high cost is the most common reason why patients with missing teeth opt out of getting dental implants. However, you can consider it a sound investment in your health. Since implants can last your entire lifetime, they decrease your risk of conditions such as gum disease for the rest of your life. Gum disease can rack up dental costs, especially if it keeps flaring up. Better to accept a large cost up front and save on continual dental expenses down the road.
Surgical Procedure
Surgery is often perceived as painful, especially dental implant surgery. However, it's actually not even as uncomfortable as a root canal or extraction. The only discomfort may come from being sore afterwards, but soreness is typical of any major dental procedure.
Chance of Failure
Dental implants have been shown to have a 95 percent success rate, but there is a risk of failure or complications. Failure can occur when a patient does not have enough jawbone or gum tissue to provide support for the implant post. Poor dental hygiene and infection can also lead to failure of the implant to attach to the jawbone. In addition, some health conditions – such as diabetes – can cause difficulty healing, which means the implant has a lower chance of fusing with the jawbone, increasing the risk of the implantation failing.
Dental implants have a lot of benefits – longevity and durability, for example. However, they are not the perfect solution for everyone. If you are in doubt, talk to your periodontist in Colorado Springs to learn more about whether you're a good candidate for dental implants.
About the Practice
At Rocky Mountain Periodontal Specialists, we provide top-notch care for patients looking to restore their oral health. Drs. Karl Lackler and Geoff Haradon have more than 36 years of education and experience between them. Both of them seek continuing education courses in implant dentistry, bringing their patients the best treatment that modern dentistry has to offer. To learn more about whether dental implants are right for you, click here or call (719)-574-4867.