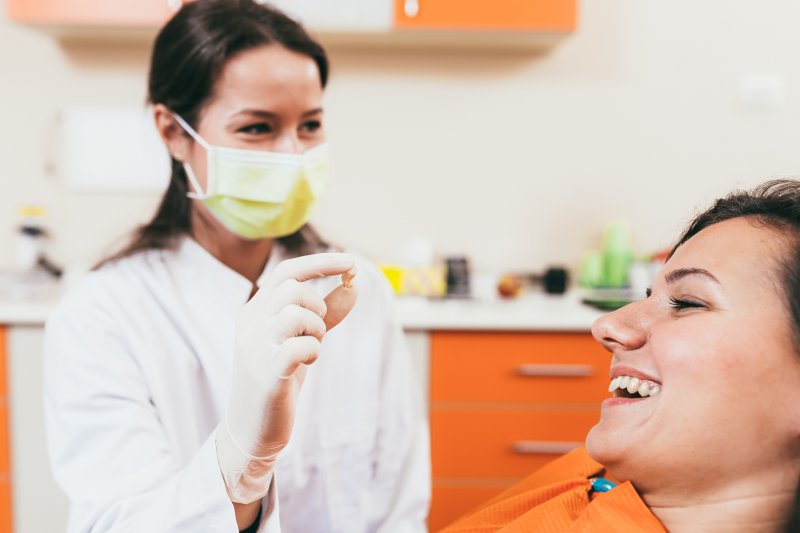 What images come to mind when you think about tooth extraction? If you're like many people, especially those who are anxious about going to the dentist, you may think about a giant pair of pliers grabbing your tooth and the pain that will surely follow. Rest assured, though, this is not how extractions are performed.
If you're curious to learn the truth about extractions and debunk some of the common myths surrounding them, continue reading.
1. Extractions Are Painful
No dentist will work on your teeth without using a local anesthetic first. The formula that goes into these numbing agents has vastly improved over the years, providing pain-free procedures.
Extractions are no different. You may feel some pressure from the dentist's tools during the treatment, but you shouldn't feel any pain or discomfort.
2. Recovery Takes Months
After your tooth is extracted, it leaves behind an open socket that your dentist will cover with gauze to promote clotting. Some people believe that recovering from an extracted tooth will take several months.
While recovery times can vary based on factors like your diet and your health habits, you should only expect to be eating soup for a few days. At most, it will take two to three weeks for the socket to completely heal.
3. Extractions Leave the Root of a Tooth
This is patently false. The extraction procedure removes the entire tooth, roots and all, from the socket. Leaving the roots of a tooth in your gums would cause a great deal of pain and lead to infection.
4. Having an Infected Tooth Extracted is Always the Best Option
Your dentist will always try to save a tooth if they can. Extraction is the final option when no others are left. Natural teeth are strong, can sense pressure and temperature, and allow you to eat a variety of foods.
Extracting teeth could leave you with unfunctional gaps that limit your diet or cause issues with your bite alignment. Worse, the bone density of your jaw around an extracted tooth will diminish over time, possibly causing issues for surrounding teeth.
Extractions are a big decision that shouldn't be made lightly. If you feel like you may need to have a tooth removed due to pain, speak with your dentist first. They can give your mouth an examination and determine the best course of action for removing your pain and saving your tooth at the same time.
About the Practice
The dental team at Rocky Mountain Periodontal Specialists LLC is comprised of three incredible prosthodontists, each with many years of experience and specialized training. After obtaining your customized treatment plan, their friendly and professional staff will help guide you through it every step of the way. To schedule an appointment for an extraction, call (719) 574-4867 or visit the website to see and explore their other services.