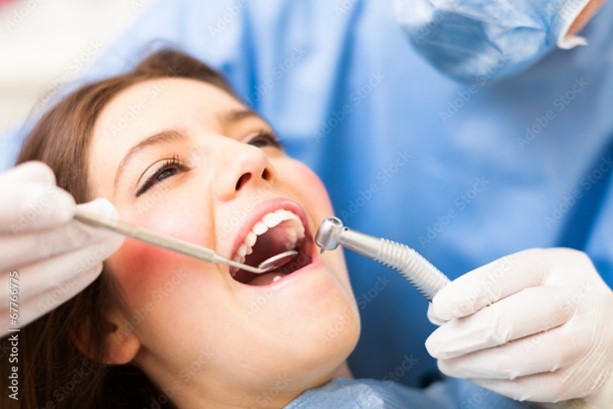 Gum disease is a serious matter—according to the CDC, roughly half of all American adults are affected by it! Those who are suffer from inflammation, bleeding, and sometimes even tooth loss in serious cases. But fortunately, treatment options such as scaling and root planing are able to easily eliminate disease-causing bacteria and give your gums the chance to heal up. Keep reading to learn more about this treatment process, along with some factors that affect its cost and some tips for keeping your gums vital.
Why Is Scaling and Root Planing Sometimes Necessary?
Your gums are just as important as your teeth—after all, they hold your pearly whites in place! So, if your gums are afflicted by periodontal (gum) disease, you're at risk for all sorts of oral health problems. A common cause of gum disease is the buildup of plaque; if this plaque isn't thoroughly removed, it can irritate your gums and cause inflammation. And one of the best ways to remove this plaque is with scaling and root planing.
Performed by your dentist, scaling and root planing is a form of deep cleaning for your gums, and it can be categorized into two types: preventive and therapeutic. Preventive scaling and root planing is for patients experiencing inflammation in less than 30% of their mouth, while the latter addresses more severe inflammation that's more widespread.
What Affects the Cost of Scaling and Root Planing?
Scaling and root planing can only be conducted after an oral examination, as your dentist must assess the state of your mouth before they can determine the appropriate course of action. There are many factors to consider here, and many of them also affect the overall cost of treatment:
How much the inflammation has spread (preventive scaling is charged by quadrant, whereas therapeutic scaling is charged per the whole mouth).
How many visits are required for scaling and root planing treatment.
Any necessary procedures or tasks performed prior to scaling and root planing.
The biggest thing that the price depends on is whether you're having preventive or therapeutic treatment, but it's also important to note that many insurance policies may cover about half of the cost of scaling and root planing.
Tips for Keeping Your Gums Healthy
In reality, the best thing you can do to prevent gum disease and the need for scaling and root planing treatment is to simply take care of your mouth! Here are some easy ways to keep your gums healthy and pink:
Practice good oral hygiene by brushing and flossing daily. Also use an antibacterial mouthwash.
Don't smoke or use tobacco products; smoking is notorious for causing oral health problems like gum disease!
Visit your dentist regularly for checkups, screenings, and teeth cleanings.
Eat a well-balanced diet consisting of hearty fruits and vegetables, lean proteins, whole grains and more. Avoid foods and drinks with high amounts of sugar or acidity.
If you're suffering from chronic gum disease and ready to do something about it, talk with your dentist to see if scaling and root planing is a viable option for you; it's affordable, accessible, and certain to get your gums back on a healthy track.
About the Practice
Rocky Mountain Periodontal Specialists is honored to serve the needs of patients and families in the Colorado Springs area. The practice is led by Dr. Geoff Haradon, Dr. Karl Lackler, and Dr. Tyler Haradon. Their practice is proud to offer several available services including scaling and root planing. If you have any questions about the article or would like to schedule a visit, you can contact the practice online or by phone: (719) 574-4867.