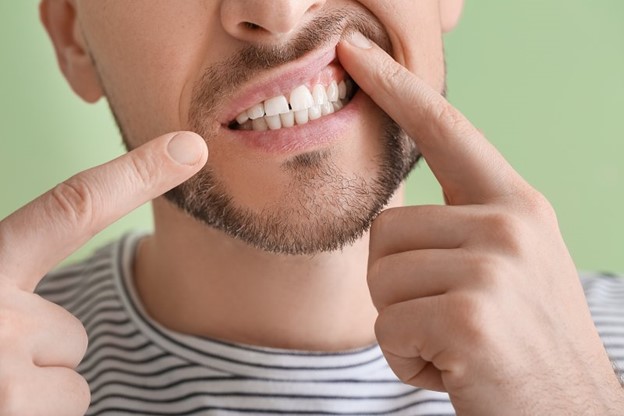 When most people think of their oral health, their teeth are the first thing that comes to mind; but your gums are just as important! That said, if you've recently noticed that your gums seem a little overgrown, you might be feeling a little concerned. Even though this might not seem like an immediate issue, it's potentially dangerous to your teeth and can also compromise your smile's appearance. Keep reading to learn more from your dentist about what causes overgrown gums and what the consequences are, along with some possible treatment options for getting your gums back to normal.
What Causes Overgrown Gums?
The most common cause of gingival hyperplasia, or overgrown gums, is gum tissue responding aggressively to the irritants of plaque or tartar. Just like how gum disease can lead to receding gums, it can also lead to excessive tissue growth! And even after this overgrowth occurs, recession is still a possibility.
Gum overgrowth can also occur due to genetics and a condition called gingival fibromatosis, in which healthy gum tissue grows so excessively that it can completely cover teeth if it isn't removed by a professional. Additional causes for overgrowth include hormonal imbalances, pregnancy, and even leukemia. The only way to identify the cause of gum overgrowth with absolute certainty is to have a dentist perform a medical examination.
What Are the Consequences of Overgrown Gums?
Many consequences of gum overgrowth are aesthetic; it can easily produce an uneven gumline and lead to a gummy, undesirable smile. However, there are also health issues that can stem from overgrown gums. As most types of overgrowth are a result of inflammation, it can be potentially dangerous to teeth and bones since your body's immune system can also attack gum tissue as it's trying to destroy the invasive bacteria. Overgrown gums can also trap tartar, bacteria, and other irritants beneath the gumline that accelerates swelling and the development of tooth decay.
Treatment Options for Overgrown Gums
If your gum overgrowth is a result of gum disease, improved oral hygiene combined with anti-inflammatory medications can often reduce swelling, and the problem can sometimes go away on its own. However, for more serious causes including gingival fibromatosis, treatments such as gum recontouring (also called crown lengthening) can be used to restore your gums to a healthy and natural-looking state.
Gum overgrowth is not something to take lightly; it won't just affect the look of your smile, but also its overall health! Talk with your dentist if you're interested in receiving treatment for your overgrown gums; it's relatively straightforward and certain to improve your oral health.
About the Practice
Rocky Mountain Periodontal Specialists proudly serves the dental needs of patients in Colorado Springs under the leadership of Dr. Geoff Haradon, Dr. Karl Lackler, and Dr. Tyler Haradon. The practice offers a wide range of available services including many gum treatment options. If you have any questions about the article or would like to schedule a visit, please reach out online or by phone at (719) 574-4867.