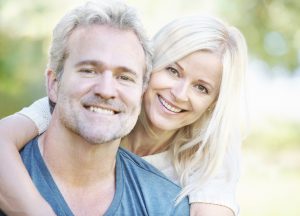 If you're missing a tooth then you're in good company. Researchers estimate that 178 million people in the United States are missing at least one tooth, and 35 million are edentulous or missing all of their teeth. Of course, this is not the kind of company you want to keep. Replacement of missing teeth is essential to your appearance as well as your ability to talk, chew and smile. The Colorado Springs periodontist at Rocky Mountain Periodontal Specialists can help you decide which option is best is for your smile, your lifestyle and your budget.
Dental Implants
For a tooth replacement that looks most natural in your smile and feels most natural too, choose dental implants in Colorado Springs. These prosthetic devices can be used to replace a single tooth, several teeth or even all of the teeth along an arch.
Dental implants are small titanium screws that are surgically embedded by your periodontist in the jawbone beneath an open socket. Because titanium is a biocompatible metal (it's the same material used elsewhere in the body for other surgeries such as hip replacement or an artificial knee), the post and surrounding bone tissue are able to fuse together. This fusion is what provides the solid footing for your eventual tooth restoration. In addition, the implant prevents your jawbone from shrinking because of tooth loss.
After your gums have healed from implant surgery, Dr. Lackler or Dr. Haradon will attach an abutment to the implant that serves as a link between the post and your new tooth. If you're missing just one tooth, then a porcelain crown will be used to complete your smile. For two or more missing teeth, we can fashion a partial denture. This device is made of two dental crowns that affix to healthy teeth or dental implants and a span of false teeth that replace the gap in your smile.
Implant-Retained Dentures
For patients who are missing all of the teeth along the upper or lower arch, Dr. Lackler or Dr. Haradon may suggest implant-retained dentures. With traditional dentures that are removable, wearers must be vigilant about keeping them clean and out of heat and sunlight. Moreover, there is always the risk that a denture will slip or fall out of your mouth even if you're using a denture adhesive. Implant-retained dentures, on the other hand, remain in your mouth all of the time and are securely anchored to posts in your jawbone. You'll never need to worry about an embarrassing moment with these dentures.
Contact Our Office Today
If you would like to find out whether or not you are a qualified candidate for dental implants, or if another type of tooth replacement might be better for you, then call Rocky Mountain Periodontal Specialists. We'll be glad to help.