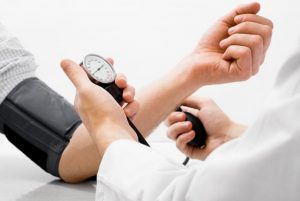 Gum disease is a pretty widespread problem; in fact, according to the Centers for Disease Control and Prevention, one out of every two adults in the US has some form of it! But this condition doesn't just affect your oral health—it can also cause many other issues, including an increased risk of high blood pressure. Here's more from your dentist about this connection along with some ways you can monitor your gums and keep them healthy.
How Gum Disease Causes High Blood Pressure
Periodontal (gum) disease most often occurs when bacteria is allowed to remain on your teeth for too long; this causes plaque to form, which eventually turns into tartar and becomes quite difficult to remove. This can lead to infection and inflammation, which is just the start of a laundry list of issues. It's strongly believed by researchers that this inflammation is what allows bacteria from your mouth to escape into your bloodstream, which in turn inhibits your blood flow.
Due to this strain in the blood stream, your body must work much harder to pump the blood that's filled with inflammatory bacteria. One study published in Cardiovascular Research in 2020 estimated that people with moderate gum disease are 22% more likely to experience hypertension, with this figure jumping to 49% when looking at patients with severe gum disease.
High blood pressure is serious, especially since it's been linked to a list of health issues including but not limited to heart failure, stroke, vision loss, kidney disease, and more. And while things like an unhealthy diet or lack of exercise certainly contribute to hypertension, there's very much a direct and observable link between the condition and oral wellbeing.
Gum Disease Warning Signs & Symptoms
When it comes to gum disease, the warning signs aren't always obvious or easily detectable. Here are a few common symptoms to watch out for:
Chronic bad breath
Gum tissue recession
Swollen, red, or bleeding gums
Loose teeth
Tips for Preventing Gum Disease
Since the link between gum disease and hypertension is so direct, taking care of your gums will directly benefit your blood pressure! And since high blood pressure doesn't normally have any observable symptoms, this is also a very cost-effective way of managing it. Consider these easy-to-follow tips:
Brush your teeth twice a day with a soft-bristled toothbrush coupled with fluoride toothpaste. This will reduce the buildup of plaque between your teeth and gumline.
Avoid smoking or using tobacco products; they're certain to increase your risk of hypertension, as well as other nasty problems!
Drink plenty of water; it helps to wash away lingering debris from your mouth and also encourages the flow of saliva, which is crucial in the ongoing fight against tooth decay.
Visit your dentist biannually for preventive care; they can ensure your mouth is healthy and identify any signs of gum disease early.
Even though gum disease cannot be completely cured, it can still be effectively managed or even prevented by following these tips and knowing what to look for. By remaining vigilant and taking care of your gums, your oral health won't just benefit—your whole body will, too!
About the Practice
The team at Rocky Mountain Periodontal Specialists proudly serves patients and families in the Colorado Springs community. The practice is thrilled to house three skilled specialists: Dr. Geoff Haradon, Dr. Karl Lackler, and Dr. Tyler Haradon. They all have several years of experience and would be happy to assist you with your oral health care. If you have any questions about the article or would like to schedule a visit, you can contact the practice online or by phone for assistance: (719) 574-4867.