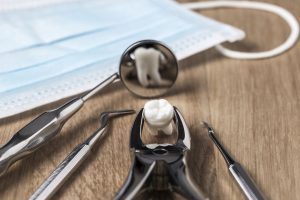 Every tooth is invaluable for a healthy, functional smile, so why would your periodontist recommend extractions? Removing teeth is only suggested when there aren't any other options to rehabilitate them, such as when treating advanced periodontal (gum) disease. The preventable infection can be resolved in the early stages to avoid tooth loss. However, if it spreads to the bone, your periodontist will advise you to remove your teeth to stop the infection. 
Bleeding Gums Aren't the Only Risk
Gingivitis is the earliest stage of gum disease, which causes red, swollen, or bleeding gums. Although the symptoms may not be alarming, they are the first signs you need to see a periodontist. If you wait to get the care you need, the infection will progress until it causes gum recession, bone loss, and loose teeth. Besides the damage to your oral health, advanced gum disease is linked to various medical issues, like heart attack and stroke.
Your periodontist will strive to preserve your natural teeth to reinstate healthy gums, but that's not always possible, depending on the severity of the infection. If your teeth are about to fall out, it's better to have them removed by a professional instead of waiting to lose them at home.
Tooth Extractions for Gum Disease
If an extraction is in your best interest, you'll be scheduled for your procedure. Your periodontist will use a local numbing agent or sedative to keep you comfortable while the tooth is removed. They will clean the area to reduce the likelihood of the infection recurring.
You will need to take it easy for a few days to allow your mouth to heal. Once you have recovered, your periodontist will focus on restoring a complete, functional smile. They'll create the personalized plan you need to overcome tooth loss, such as dental implants.
Don't Wait Until It's Too Late
The longer you wait to address the problem, the more teeth your periodontist won't be able to save. After your extraction and restoring your gum health, you can keep the infection at bay by improving your oral hygiene.
The American Dental Association recommends brushing your teeth at least twice per day, but after every meal is best. You should also floss at least once daily. An antimicrobial mouthrinse will kill any bacteria left behind by your toothbrush. Besides caring for your smile at home, schedule a cleaning and checkup at least twice a year. Your periodontist may recommend more frequent appointments to monitor your gum health.
It can be difficult to say goodbye to your teeth, but they are a small sacrifice to keep your mouth and body healthy. Don't worry, your periodontist can replace them with the next best thing to your natural smile using dental implants.
About Dr. Karl Lackler
Dr. Lackler earned his dental degree at the University of Illinois and completed his Master of Science in Periodontics at the University of Texas Health Sciences Center. He was also selected as the Chief of Periodontics in the U.S. Air Force Academy. If you need a qualified periodontist you can trust, contact our office today.