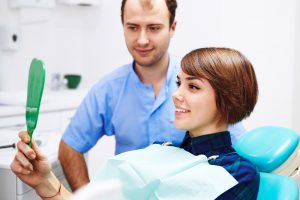 If your gum line has been damaged by periodontal disease or aggressive brushing habits, your tooth roots might be exposed. Not only can this cause an unattractive smile, but it can also lead to dental issues, like tooth sensitivity and an increased risk of cavities. Your periodontist may recommend a special treatment to restore a healthy gum line. A gum graft in Colorado Springs is a procedure used to restore your oral tissues. As with any oral surgery, there will be a short recovery, but there's no need to worry. Here are 6 tips to help you recover from gum grafting.

Recovering from Gum Grafting Surgery
Gum grafting is a procedure that takes tissue from a donor or the roof of your mouth and transfers it to the treatment site to cover the exposed root. New techniques make the treatment less invasive, so you'll only need a light anesthetic. The recovery time is also shorter. You can ensure your procedure is successful and there aren't any unexpected complications afterward by following a few simple tips:
Take Your Prescribed Medications
Your periodontist in Colorado Springs may recommend antibiotics as a preventive measure to take at home while you heal. It's essential you use them according to their instructions and finish the course to prevent an infection.
Ask for a Palatal Stent
If you used tissue from the roof of your mouth, it's going to take a couple of weeks for it to heal. To ease any discomfort, ask your periodontist about a stent to protect your palate while you recover. This will reduce bleeding and keep the area clean until your sutures are removed.
Use Cold Compresses
Slight swelling is a normal occurrence after the procedure. You might even see some bruising. You can minimize both by applying a cold compress for 20-minute intervals throughout the day.
Manage Your Pain
If you ice your mouth, your pain should be minimal, but you might still need a little extra help. An over-the-counter pain reliever can ease your discomfort. If it doesn't give you the relief you need, don't hesitate to contact your periodontist.
Avoid Overly Cold or Hot Foods
To avoid irritating the healing tissue, it's best to skip eating or drinking anything that's too hot or cold.
Stick to a Liquid Diet
It's often best to stick to a liquid diet for at least the first day after your procedure. As your discomfort subsides and your tissue heals, slowly introduce harder foods. You'll want to avoid anything that's sharp or crunchy, like chips or taco shells. It's also best to skip anything that's spicy.
Restore a Healthy Smile
Besides the tips above, your oral hygiene is critical to allow your tissue to heal. Your periodontist will explain how to best care for your teeth and gums to restore a healthy, beautiful smile.
About Dr. Karl Lackler

Dr. Karl Lackler earned his dental degree and continued his educational training to focus on periodontics. As a member of the American Academy of Periodontology, the American Dental Association, and various other organizations, you can rest assured your smile is in good hands. Contact our office today for a consultation.